11.07.17
I'm ready inside the bus and it's 8.02. We have waited in vain for the last two and are leaving now. I arrived as one of the last at 7.47, two minutes late.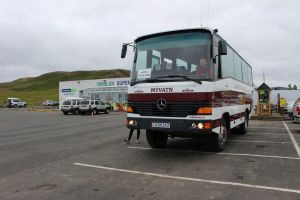 That's what an Icelandic 4WD bus looks like
We go back the way I came from and I do not recognize anything. This time of course, I have more time to look around. On the downhill I was just concentrating on the road.Our guide should be called Sigga. She has been in high school in Bjerringbro, so she speaks a little Danish - the first I have met.
The row of stone markers I noticed on my way is not boundary markers, but guides. Before the real roads. They stand close. Many could be covered in snow in winter.
As we get to the F88 road down to Askja, we pick one up coming from Grimstunga. She says that there's been calleded, but the guide does not know, but accept gladly payment.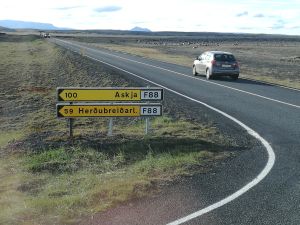 Now we've only got 100 km left - but we're out of asphalt
The mountain Herđubreiđ - the broad shouldered - is unfortunately dressed in clouds, so you do not see the flat top. 1683 m high is this queen of the Icelandic mountains. As we stay at Herđubreidarlindir, in front of the mountain, the sun has emerged and the clouds spread around the mountain. Nothing could be better. I did get here anyway !!!
| | | |
| --- | --- | --- |
| | | |
| Crossing the river | | The clouds are spreading around the "broad shouldered" |
There is an emergency airport close by. If one removes the big stones, there are many possible landings.
We pass a lake, "Swan Lake". There is a swan couple who gets here and breeds every year. Now we cross one of the more solid lava fields, where the road is tossing completely insane.And so it changes ....
Stopping somewhere where the bus drives a little forward and waits while we walk down to a waterfall. I would think we are driving 30 km/h on the good stretches and no more than 10 on the bad ones.
Runs through a yellow pumice stone area from an outbreak in 1875. Pumice has previously been used for isolation in Iceland.
The road ends. We meet with road 910, and that's its name from now on. At the same time, we arrive at the area where Neil Armstrong and Buzz Aldrin in 1965 and 67 practiced before the trip to the Moon. It looks like that too - that is, pictures I have seen. Here the road is very sandy. Not for a bike. But I have tried something similar in Bolivia.
| | | |
| --- | --- | --- |
| | | |
| Disgusting sandy stretches - which need 4WD | | The Viti crater |
We reach Dreki. From here you have to walk. Through snow, slush and lava fields. I do not know how far, 3 km maybe, but not easy for walking. My blister bother me a bit, but no more than being at the front with the guide.
Then we arrive at Öskjuvatn, as the lake in Askja is called. A crater lake of recent date. Large.1 km in diameter. But even newer is the small crater in the side of the lake, Viti. It is also watery. Filled with very beautiful emerald green water. You should be able to swim. I ask the guide how hot it is? She is somewhat hesitant. 40 gr. Maybe. Well, then it's too hot. But when I get closer, I see the sign: The water is 22-24 degr. And going down there is under your own responsibility, signed the Ranger. One must stick to the watercourse.
It's steep and no trail or rope or anything. But people are swimming down there. If you don't watch out you'll probably slide down on your a.... all the way down. At most you'll break an arm or a leg. But I am cautious. Like everybody else.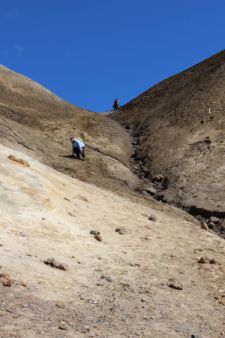 Not so easy to get down there
And soon I swim in this pleasantly temperate green water. It's low for a start, but then the bottom disappears into the depths. I don't stay there long. Later, I notice how my hands smell sulfur-metal-like. I have to get under the shower when I have come home.
I'm having a chat with some Icelanders. They have never been there before. Later it turns out they have just returned from the States and still drive around in a huge American 4WD on New Hampshire plates.
| | | |
| --- | --- | --- |
| | | |
| I'm on my way | | Hello, there! |
I think I need to stay there a little longer, but then I see the guide heading back. Nor do I see others from the bus. I succeed every time we stop, being the last one to board. But always on time.
Then we go back and now the guide can tell the horrendous stories of people who have disappeared in the area.
| | | |
| --- | --- | --- |
| | | |
| On the way back | | A very hostile landscape |
The eye lids get heavy, but you do not sleep much or comfortable in that bus on that road. After 11.5 hours and 268 kilometers we are back and it was worth the money.
I have expected another red sticker on my tent. That I should turn to the front desk. Since the reception opened at 8 o'clock and I had to leave at 8, I could not pay this morning, so now I do on my way back. And when I get to the tent, the sign is there as expected.
0 km