01.07-17
Yesterday I was in Solr°d to be updated on Icelandic conditions and getting good advice. It's an Islander I met when I rode to Paris with Rynkeby last year His team was on Bornholm to cycle with us once in the spring. And later we said hi in Paris.
Now I have to bike to Iceland tomorrow, while he's going to Paris again in a week. On the first Icelandic team ever!!! The wife is in the service team.
It's two very concentrated and rewarding hours we have. He has been anywhere in Iceland - except TWO build-up areas - and has many good suggestions.
This morning it only rains a little, but as soon as I get started it gets worse. I'm equipped with rainwear, but no raincoats on the bags. I only have to go to the station. Then there I take the train to Hiller°d, cycle to Hundested, take the ferry to R°rvig and cycle to Odden to take a ferry to Aarhus.
Actually, I should have been with the ferry to Ebeltoft and have visited my niece and her family, but yesterday I found out quite random that all the departures to Ebeltoft were canceled throughout the weekend. This route sails only during the weekend, so that is a bit of a break. Fortunately, I have friends a little north of Aarhus, so now I stay there overnight.
I was just about to buy the ticket yesterday - now in the S-train I learn that I SHOULD have. Cheap tickets must be purchased no later than the day before. This can not be seen in their App, but I'm told by a man who also brings a bike and with whom I come to talk. Now I have to pay 395 kr instead of 149 kr. I'm outraged. Not because of their prices - yes also that - but most of their lack of signage. Of course, it is somewhere on the website, but you do not read all in detail just because you have to buy a ticket once. And they are going to sail on Bornholm from 2018 !! Damn!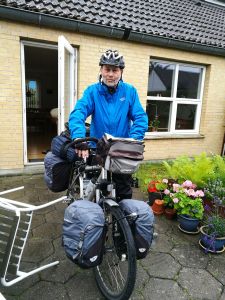 Ready for take off in K°ge
I reach an earlier train in K°ge and the change in Ny Ellebjerg goes smoothly. I have thought the possibility of the elevator being out of order. Fortunately, it's not - because it's way down ....
In Hiller°d the bike ride starts. I think I know the trip to FrederiksvŠrk, but the cycle track along Herredsvejen ends at one point, and so I have to look at Google Maps on the phone. I find quite quickly FrederiksvŠrksgade and thus the cycle track towards Hundested. It does not rain and everything goes smoothly. Only true climb is the hill before FrederiksvŠrk. It is done at 9 km/h.
Around 11.15 I am in Hundested and get the ferry for a fee of 72 kr. Eat two bananas and some rye bread.
I'm not impressed with the marking of the bicycle route towards Odden Harbor. A long stretch I go on the road with the cars because of missing signage.
Arrive at Odden Havn at 14, and there is a ferry at 14.15. However, I'm not going with that. One person and one bike? I say astonished, but that's how it is. Not until 15.45 can I go. Obviously, I'm complaining that the app doesn't tell that cheap tickets have to be purchased the day before, but she says, as expected, that there says somewhere in the website, and it does, no doubt - but they've hid it well. Well, I only have to pay 349 kr. Then, it just waiting ......
Eventually I'm on the ferry and can think back on all the conflicts. Tuesday I realized that I should rather update Windows on the small computer that I should bring. As said so done - and of course there was an update. It was 22, and it turned out to be almost a reinstatement of WIN10.
I let it be and went to bed. At 3 I was up to pee and went straight down to looked at it. It was waiting for me ..... After passing it on in cyber space, I slept on. In the morning it was done. At last .....
When I tried to turn it on again after it had been turned off, it denied. Apparently it had resigned for an early death.
After many considerations, where I also examined IF I could still get that model - I couldn't - and a later model 320 was only available from "Elgiganten" in Aalborg, I decided to bring both the small and the big one - to K°ge at least.
The action camera turned out to need a card reader to get the stuff out. I had in the big .... Even not for micro cards, but like a miracle, I had just seen that I had an adapter.
Well, arrived at K°ge, I submitted the small one to the miracle man in the basement on Strandvejen. He looked so excited by getting fingers in such machinery, which he probably hadn't had before.
Later that same day, he called and HAD carried out miracles. By separating it and resetting the BIOS, it had come to life. In terms of 700 kr, I could still bring my little helper.
But card reader? When I examined it closer, there was room for a card. Fitting even without adapter. So it was a happy end .... So far.
Now at almost 23, I sit here in Hinnerup, having finished writing and ready to go to sleep. Good night.
Wednesday: 22.71 km Today: 93.71 km