27.07.17
I'm already awake at 6 am and feeling well - so and so. Must look at a new plan I am developing. It was too late last night.
What I am thinking now is to cycle to Landmannalaugar. The jumping point is whether I can get south to Road 1 from there. If I can I'll arrive on the other side of Vik.
I talk to Alex and Vera because did't they drive that way? Yes, that was exactly what they did. There are 4 river passes, which preferably should be in the morning before the excessive meltdown.
We say goodbye. Lovely people. We were exactly on wavelength. They are going back to Reykjavik and home. Have pretty much enjoyed the weather all the time they have been here !!!
I never get to pay for the site. She has been here this morning, but then I sat and wrote on the other side of the toilet building, so I did not see her.
Shop so I should have for 4 days and drive a little back and down the road 37 towards Selfoss. Wind from the side so it will be fair until I get to road 35, where I turn left and drive straight into the counter-wind.
I sit heavily in the saddle at this steady thread in as heavy gear as possible. In between, I want to get off and throw myself into the grass. Nevertheless, I struggle the 10 km to the exit towards Skalholt.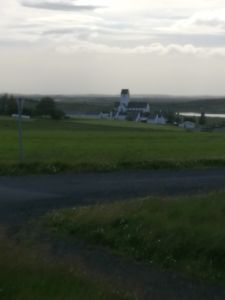 There seemed to be a monastery in Skalholt but I didn't go there
It's as if not only the body but also the brain has been blown through. I am about to drive on to Reykholt, but in the last minute I look at the map.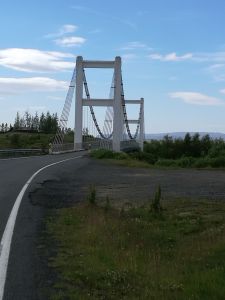 Now I've passed Laugarás it's "Einbreiđ brú" again
The way to Road 30 goes better. In Laugarás there is suddenly "Coffee" and I have to have a cappucino with refill and a piece of carrot cake. These breaks are going to get me through.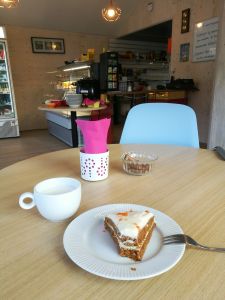 Cosy room after 25 km of nothingness
It is not to be seen when there is a bit of shelter and when not - and why, but sometimes there is just a little rest for the incessant wind.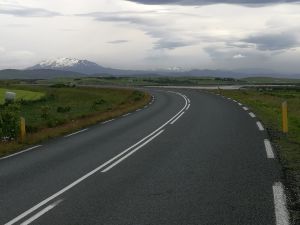 Found out later that it was Hekla I was staring at constantly
Turn left on road 30 and after a few km, I have turned onto the ROAD. Road 32 that will lead me to Landmannalaugar. I'm just going to Sandartunga today, still missing 25 km.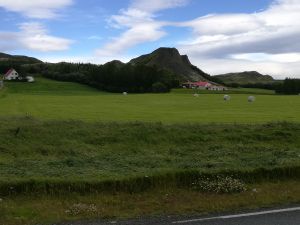 It might look peaceful, but....
.
Here at 3.30 pm I'm sitting behind a N1 gas station writing. On the sound from the poplars to the right of me, I can hear the wind speed. It sounds terrifying when it's worst. Waiting for a while ....?
I kept on a few km. Standing behind a building I considered. A measuring station further on the road said 17 m/s and the wind would last for the next 2 days and the weather - today there has also been a lot of sun - get worse with rain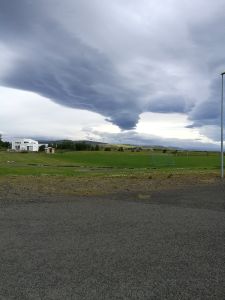 The sky looks frightening
Then I decided to turn around. Let me blow back to N1 without pedaling once. There should be an IYHO hostel, where I hoped to be able to get washed.
And now at 18, I sit and eat a late lunch 2. Had to see if they had cappucino bags on the station. They had, the real stuff: Nescafé. Had to have an Egil Pilsner for dinner later.Talked to some French cyclists and a German and later another German. Nobody really knows what to do. Is currently weathering the storm here.
By the way, I'm sure the wind speed is the mean wind. The gusts have been near to storm. I could hardly stand up to the wind on my way home from the station.
Down on Road 1 there is not much wind. I'm going there tomorrow.
51.88 km