31.07.17
Sitting here in the kitchen all alone and at 7.20. I went to sleep 22. Then it had just begun to rain. This light rain, as there is a special word for in Icelandic. It continued all night until the morning. Right now it's just grey. No one feels like getting out of bed, except for a single smoker, whose need for nicotine has got him on his legs.
When I had turned up the tent yesterday and was heading down to the restaurant, I met the French heading this way. Had wondered why I didn't overtake them, but I thought I was all burned out. I felt that too. Nevertheless, I must have passed them while they were pausing. I don't get it, there were NO places to hide.
Correction: Laki eruption was in 1783. When it was over 600 km2 had been covered by lava, the area today called Eldhraun = fire lava, and which I now work myself through for the second day. Incredible amounts of dead sheep. At that time, 30,000 people died in the famine that followed, it was agricultural land that disappeared.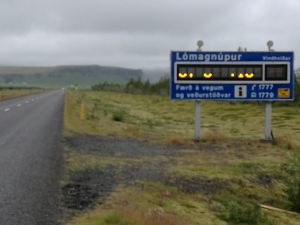 Programme of the day: SV3 +13, The camera is too quick to get all the lines
It's a good day. No wind and more interesting things to stop by and look at.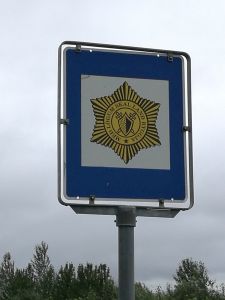 Lögreglan - The Police
Traffic is not overwhelming. The cars usually come 4-6 consecutive. They probably stop in the same places and run around chasing each other. Some people do not even get out of the car when they stop. Just open the window and pull out an arm with a camera.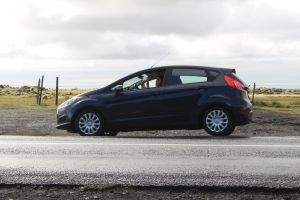 Well, what can you say.....

Then comes a 34 km long distance

a

cross the Skeiđararsand. Uniform but with good wind. You can now clearly see 3 glacier tongues stretch

ing

out from Vatnajökull. I did not imagine it like this.The ice is on top of a number of volcanoes and geothermal areas, which means, for example, that there is a lake below the glacier: Grimsvatn. When Barđarbunga broke out in 1989, so much melting water accumulated that it lifted the icecap and swelled out like a violent tide that flushed several of the bridges over the meltwater rivers away.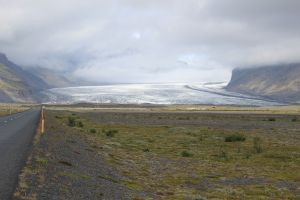 Skaftafell tongue from a distance
In 2010 it was the volcano under Eyjafjallajokull, which rumbled and sent out ash clouds that stopped air traffic across Europe. Fire and Ice has big consequences.
I finally reach Skaftafell across the reconstructed bridges. It's "Einbreiđ"-bridges but long as they are, there are lay bys along the way where cars can pass each other.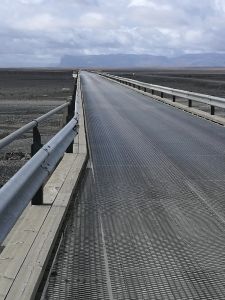 One of the rebuilt bridges
On my way across the sand, I met some cyclists who had stayed at another campsite. They had heard badly about Skaftafell and recommended the other. It lay about 7 km further ahead.
First, however, I drove the 2 km to the information center at Skaftafell and got coffee and cake. Then I walked the 2 km to the glacier tongue. As at last time you could feel the cold from the glacier at a long distance. It was barely as dirty as Solheim.
| | | |
| --- | --- | --- |
| | | |
| Here you feel the cold from the glacier | | A close up of the glacier |
Back again and forward, now I knew it was called Svinafell. Bought an evening meal at the gas station in Freysnes so I have two, because I don't reach a town, Höfn, until the day after tomorrow.
When I have established myself here in Svinafell, the French family appears. For the third day in a row.The camp site meets the expectations. The kitchen is HUGE, it can house up to 90 people - but I guess it also will - soon.
78 km