Here the road changes. It is a main road and the small steep hills have been replaced by some much softer. On the other hand they are longer 1-2 km. And this way I get through the beautifully hilly East Jutland to Randers. A fresh wind blows from the west, so I have it mostly from the side.
In Randers I find a bench in the center where I can sit in the sun, which is there from time to time. Lovely. I'm sitting looking at a beautiful old house with a Matas at the ground floor. There is a sharp mismatch between Matas big blue signs and the old masonry.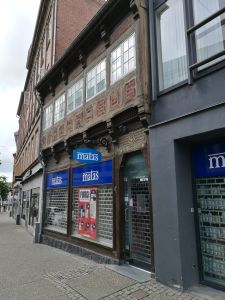 Matas in Randers
It's a long way up from Randers, but it was also far down. The landscape flares somewhat, and the fresh wind has not become less fresh. It's a somewhat uncomfortable road to go. No bicycle path. Much traffic. Some of the more inconvenient events include: A big counter-moving SUV pulls out - into my lane - to overtake. Despite my wawing arm it insists. And even though it's not exactly hitting me, it's very uncomfortable. And absolutely unnecessary. A car from behind, find it necessary to overtake a car with trailer that is already overtaking me, and finally the conscious provocation: A car from behind drives very close by at high speed. My winging arm, which normally never get a respond, get it for once. A hand comes out of the window with a gesture that can certainly only be interpreted as: Fuck you! So he wanted to see if I reacted.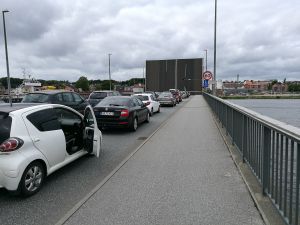 A break opposite Hadsund
And this way time roll until I reach Hadsund and eat a soft ice. Oh, what a tast!
Then I hurry towards Als - that is, the town, not the island. Final tailwind. At that speed, the 6 km don't take long, and the road turns north goes along the coast, and the wind is back where it was.
When I reach the campsites where I had planned to sleep, I just check how far it will be tomorrow: 109 km. That's too much, so much against my wish I have to continue the 8-9 km to "Dokkedal Camping". I am now on my way to crossing Limfjorden by ferry at Egense - Hals and not by Aalborg.
There is not much shelter and a wind approaching gale, so the tent is fastened with a few extra ropes on one side. Apparently there is no mobile connection here.
89.33 km