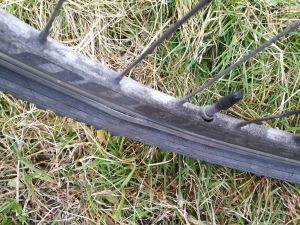 The trouble is hereby revealed - doesn't look much
10.08.17
The sun should have been on here at 7, but the weather controls noboby, not even Vedur. It has a life of its own. Now it has decided to rain - and then it rains.
So it's a completely soaked tent I pack up for the last time.
There is no time after I have received the boarding card, I will go on board first with the motorcyclists.
But they accept Icelandic banknotes on the ferry, so I have got me a cappuccino for a one thousand kr. Note and money back in Danish, which can be used. This time I have the honor of being the only cyclist.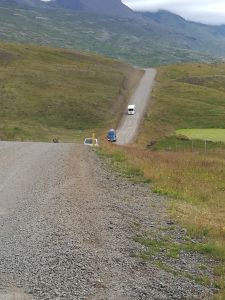 One of the biggest challenges: downhill on gravel with only front brake
I have dragged a book all the way. The intention was to read it along the way, but I have not had nthe energy to get started. Not until yesterday, when I had laid the roads and the land behind me, could I begin: The Angels Song by Jon Kalman Stefansson. More Icelandic will not be. The books (I have read the first) are about how the small people fight against the vast Icelandic nature. Just as I've been fighting for the last 5 weeks, not to overcome, but to survive. Adapt and survive. You never overcome Iceland.
The total distance was 2476,68 km including 3 days in Denmark.