I often have to be surprised by my legs. When they have to, they can. There is never any rubbish. The psyche can have it hard, but never the legs.
Unfortunately, there is more and more headwinds, and in the pass it will stay that way until I get to where the decent starts, there is a parking where I have lunch.
Someone comes one and asks for the bike and the trip. He turns out to be Hungarian, there are not so many of them. Always cycling for work.
It is with the brake completely drawn that I carefully list down. I swing a bit when I'm going to brake down with the front brake alone, so it's with the brake pulled all the way.
At some point the wind is getting a little warmer.
Now I sit at my "own table" next to the tent and let me warm from the sun. Of course I've got myself next to the Germans. I'd otherwise forgotten about them, but we must obviously be neighbors every time. Now it's the fourth time.
28.35 km
The flag was at half at the the church and after a while the clock clearly reveals that the funeral is over. When I have seen the funeral, leave the church, I go for a round in the city, it is not big.
| | | |
| --- | --- | --- |
| | | |
| The church from outside... | | ...and from inside |
Later to see the church. Very stylish and simple. Not for nothing "The Blue Church", where there is a concert tomorrow. As I get out, the priest returns with the undertaker in the hearse - which is white.
Icelandic hearse
Then I'm driving along the fjord, the asphalt stops quickly. I'm not driving all the way. Thinking that the last part is worse, because there is no more housing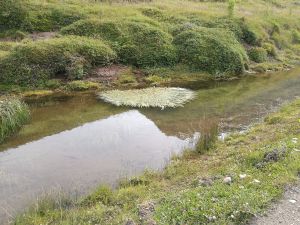 Don't know what kind of plant it is
When I get back, I'm exhausted.
42.34 km