28.07.17
It has been a peaceful night. My room is in reading time, so if the wind is teething all night, I have not heard it at all.
There were no others, so I had the room for myself. The only other guests are a Spanish group with a Spanish guide/cook.
I have revised the plan. Now I drive back obliquely to the Ring Road and take it along the south coast and see what there is to see.
I saw Hekla without clouds. Hekla, with its 1491 m, is one of the highest mountains in Iceland. However, surpassed by "Den Hærdebrede" - Herđubreiđ - with 1682 m and more places on Vatnajokull, but if it is with or without snow, I do not know.
I was surprised that the Spaniards speak French this morning, but there is apparently also a French group. Without guide. The Spaniards have apparently forbidden to show themselves before 8, because everything that was going on in Spanish last night, it is now French.
It was expensive to stay here, 4,500 kr. But then she washed for me, and folded it up. For that I gave 1,000 kr in Akureyri, and it was not folded up.
Let me blow back to road 30. The wind is a bit oblique, which means I get it right in the back on the main road. The sun in the eyes and the wind in the back, what more could you want?
There is no insidious piece on this large plateau. Here is almost flat and the road goes straight with a turn over and over again.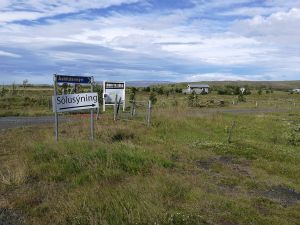 You can learn language from the various signs
Now, suddenly, I see the ants buckle far ahead - across my direction. It must be Road 1 and it was too early - ha ha. The wind must first turn once in the afternoon. So now the wind is getting boring on the road to Hella, but it turned out to be 28km in peace and quiet.
| | | |
| --- | --- | --- |
| | | |
| Now the peace was over... | | ...and I had to walk a bit |
I quickly realize that boring is too vague a word. Highly dangerous fits better. After a hundred swaying meters, I decide to walk up the hill and see if it gets better there? The wind comes straight from the side and tries to push me off the road. I resist, and when the wind suddenly lowers a moment, I come to sway. But that's not the worst. The worst is when I get crossed by a truck. The vacuum behind it sucks me out on the road - and out in front of a possible car.
After walking for 1-1œ km, I cycle a bit again. Will there be trucks from behind, I'll stop. But as I find out that Hella is not only 12 but 24km away and that there is probably no shelter before there, I decide to have a lunch break. An important factor is also that the wind, within the next hour, should go down from 14 m/s to 9 and already at 15 o'clock should have shifted.
Last exit for Hekla
I creep down in the ditch behind a car guard and enjoy myself with a brie. It is nice here in the sun.
Since I think that the wind is at least not 14 m/s, I drive on and go with no problems the rest of the 25 km to Hella, where there are some tables and chairs outside the supermarket.
As I leave from Hella, the wind turns. When I drove into town, it was NNE when I leave it feels quiet, but as soon as I am out of town, it blows from S. Quite a lot.
However, without problems, I get to Hvolsvöllur, which was intended as the end of the day. It is only 4 pm, so I strive to win one day by driving the 21 km extra to one of the sites at the Seljalandsfoss.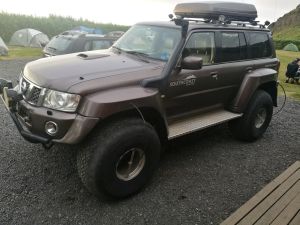 Notice the air intake and the device for changing the air pressure while driving
Turn left on road 30 and after a few km, I have turned onto the ROAD. Road 32 that will lead me to Landmannalaugar. I'm just going to Sandartunga today, still missing 25 km.
The road is really boring, but it's a bit fascinating to moving slowly past the background. The background is, for example, Hekla, which slowly declines, while new mastodons appear in front. Tindfjallajökull and Eyjafjallsjökull and behind them Myrdalsjökull. Almost all the water from these 3 runs behind Eyjafjallajökull and into the sea in the form of the River Markarfljót, which I have just crossed.
I reach Hamragarđar Camp Site. From my tent I have a view of the Seljalandsfoss, which I passed on the road. One can walk behind the waterfall - but not without getting wet, I could see.
Just then a message is ticking in about a death in the closest circle of friends. It causes the surroundings to fade and put me in a sad mood.
87.40 km