04.07.17
I'm going to sleep at 22. Sleeps really well. Wake up a few times. The last one I feel I will sleep faster if I go out and pee. Must remember the boarding card, otherwise I can not get into the hallway with the couches again. Just see me standing there in underpants and wait ....
When I have returned, there is an elephant that turns in the bunk above. It may be a little ugly, but it sounds like that. It may also be the bunks fault.
When I get up at 7, I see that he is undoubtedly an Icelander. Of the close-up type, apparently, many of them are. Some with beard. Some real vikings!
As I get on deck, we're just passing some wavy islands, and if I'm in doubt, I get help from the mobile immediately. I can now use my phone in Great Britain. That is, the Shetland Islands. We won't get to Thorshavn until 17.30.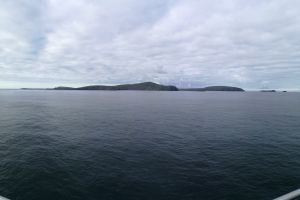 The Shetland Islands from a distance
Almost all the staff are from Faroe Islands! I have taken them for Icelanders according to their accent, but they are apparently almost identical. But it's a Faroese ship, says the girl in the cafe. I ask at the front desk after a folder, the girl from yesterday promised to look for at her night watch and jolly! It's there. I am trying to find out if it is worth paying a camping card for 1100 d.kr. They say it can pay off if you have 25 nights.
After studying the case for a long time, I have no doubt. There are very few of the 44 campsites that are included, which I would even use with my route.
I have also mapped the hostels that are members of IYH. Completed with the information on my map, I think I have what I need.
So far it has been an unusually quiet trip. We are out now where there is nothing but sea all around the horizon. While I'm eating my lunch, I suddenly see a low-flying bird quite far from the ship and soon after one more. It seems that they move independently of the ship, but on almost the same course. Wonder where they are going?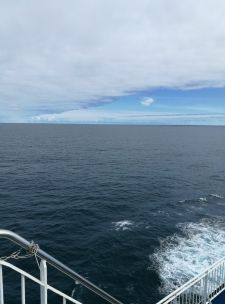 We're leaving the blue sky
There is suddenly snooker on the screen in the café on Eurosport. Wonder if they show the Tour afterwards? When I look up again, the screen is off.
Soon after I go to ask in the bar. He is not for sports and does not know about Tour de France, but he will immediately turn it on. No, no, no, I say, I do not want to watch snooker. But it must be on, he tells me, and switch it to TV 6.
It's close to 14 when I get a text that I can now call from the Faroe Islands !? I get up on the top deck and look for land. No islands of any kind to see. Can mobile signals bend? I did not think so. Perhaps there's really a mast up the horizon somewhere. One I cannot see.
Now that it's 10 past 16, there has long been network connection, and I can see that we are about 30 km from Thorshavn. The Faroe Islands coastline has long been visible. They are somewhat more sharp than Shetland.
We arrive on schedule to Thorshavn.
This video is just a test. It fills 36 MB and it took 5 min to upload it. Nor was it 3G or 4G, but just H+, if it means anything to you. Should be in HD format, so it looks pretty good in full-screen. But it doesn't. I regret that it can not be seen on iPhone and iPad. It is actually MP4 format that Apple also uses, but it's apparently the same as with Bluetooth. They add something, so files can not be transferred from other platforms.