03.09.17
I tried to switch on the TV here in the living room yesterday, hoping to hear icelandic. There were two channels. One showed a new danish film - with subtitles. The other an american one - also with subtitles. Then I switched it off.
I have to eat some bread with cheese before i take off. I ended sleeping at 5.45 and had breakfast at 6.15, so now I'm hungry again.
I wait until 9 o'clock when Nettó opens. Must have some last items, I don't know where I'll end up. It's too short to the first camping - and too far to the next.
I arrive at the tunnel, my first icelandic tunnel. Only a little more than 1 km, but it's a climb from this side, but it's lit-up and with space to the right side of the road - even not asphalted.
Two cyclists come racing from the other side with lights. I have only switched on my backlight and checked it's not covered.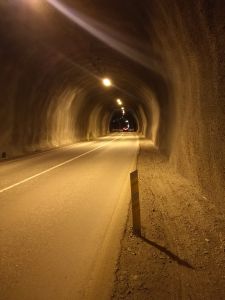 An icelandic tunnel
Just having passed through I meet another cyclist, who turns out to be a girl. One more solo female cyclist. The girls are showing off here in Iceland. She stayed at Stafafell, the first campsite.
I pass it shortly after, it won't be here not so soon.
The rear brake is making more trouble than before. I assume it's the temperature. The cable, which is more than 1 m, withdraws in the cold. And I cannot loosen the cable more. At the end I turn the brake off. I don't think the tread will be easier, but now the sound is gone...
When I get to the corner, Hvalnes, the wind starts.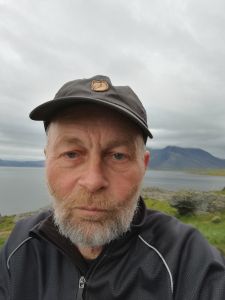 A tired old man
The next part along the coast the road winds up and down with beautiful sights, and not long after I reach the toilet from the map. It's not going to be here either. It's not even 15 o'clock and I've decided to go all the way to Djupivogur, which is a small town. Even it's just over 100 km.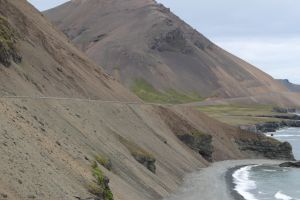 Up and down and ....
Meet with new cyclists. As expected they've stayed the night in Djupivogur. Shower is 300 is.kr. but there's a fine kitchen and not so many people.
I'm eating the road little by little, 70 km, 80 km....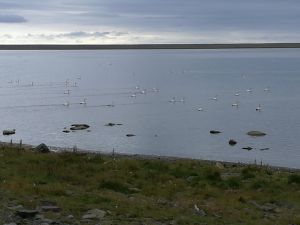 Hundreds of swans - didn't want to be photographed all of them
There's a layby with a car on danish plates. Two ladies are laying the table. I go and ask if they mind me sitting there too? They ask if I'd like coffee?
Thet was exactly what I thought I would NOT have today. No towns, no gas stations, no nothing except the nature. Their matches have got moist with spirits - it's an old Trangia cooker - so my lighter once more does the job.
And we have a cosy time eting rye bread with the Laughing Cow and my Oreo bisquits. They've arrived with the ferry this morning. It's just a break like thois I need.
Now I only miss going to the end of the fjord and out again, but it's probably 20 km. And it winds up and down, like those I met said it would. The last part not as bad as the first.
At last. I only feel the exhaustion when I drive into Djupivogur. There's a supermarket, and I have to have coffee and a muffin as the first.
At 18.55 the tent is standing.
108,65 km