20.07.17
In the supermarket I asked who took care of the campground, as I could not find anyone. They arrive during the evening, was the answer.
They did, too, but never to me. I did not find out until the morning when there was one who asked how to start the shower. He had paid and got such a card to be put in a vending machine. It just did not work.
So I did not get any shower, but did not pay for it either.
Already at 8am I roll up the road, just to find out that the supermarket does not open at 8, as I meant, but only at 9. So there is no fish for lunch today.
There are two hitch hikers already, and when I look at them, I recognize them. They were in Varmahlid, and gave me the idea of my muesli porridge. They ate oatmeal porridge themselves adding different things. Just on water? I asked. Yes. Then I thought it must be done with muesli and when they have the best from COOP in the supermarket, the one in the crimson bag, I bought it and it tastes excellent and puts a good bottom.
There was a little sun when I started, but heavy clouds lay out over the peninsula, I'm going out, but now at 11 it's as though the sun pushes them away. A nice day with only a little wind - against. There are unfortunately 50 km of gravel roads on the program today.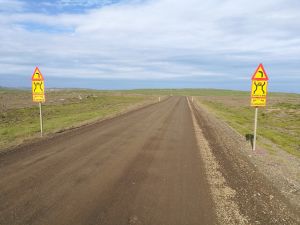 Fine gravel road - for a start
I drive 15 km before the gravel begins. "Malbik ändar", it says in Icelandic. It starts well. Nice road. Before 12 I have gone the first 40 km and eat for the second time. The wind rises and the road waves up and down like yesterday. It is strenuous.
When I come up over a hillside at some point, I look like a fatmorgana: The White City. It must undoubtedly be the stage end Stykkisholmur, hit by the sun and lying there shining. How can it be so close? There are 40 km left.
But so it is - unfortunately. There - 7-8 km across the water - I'll go, but the road moves in the opposite direction into a bay and back again. I'm just coming up to a viewpoint and the sight is still there, but before I get the camera, the sun has disappeared and the city has become gray. But fortunately I still have it inside.
| | | |
| --- | --- | --- |
| | | |
| A long needed break | | The "white city" has just disappeared |
As the road turns, it turns bad. Miserable in fact, and at the same time it rises and falls.
It's a hard stretch, but at last .... After 78 km I reach the asphalt road to Stykkisholmur just as two cyclists come from the left. I simply fall in behind them. It is a Dutch couple.
| | | |
| --- | --- | --- |
| | | |
| Bad road - looks better than it was | | I'm now officially entering Snæfellsnes |
That's the boost I need. In the course of zero, five, we have driven the 10 km to town and end up turning into the campsite together.
I'm done completely. Have to get to the reception and have a cup of "sukkulađi" and a piece of grandma's crumb cake. It tastes heavenly. I'm sitting writing but I'm on my way back to sleep.
Then it's the supermarket, and THEN, I can fall in the tent. Just creep into the sleeping bag to keep warm.
Nevertheless, after half an hour, I get stuck on my legs and go up to update the blog. Now it's 7.30pm and it's time for dinner.
87.95 km