03.07.17
It's a wonderful morning, sunshine and slightly scattered clouds. The wind is the same. Despite the 90 kr she said yesterday, I only pay 75 incl. a bath for 5 kr.
I do say the campgrounds have improved since I last visited one in Denmark. Small private rooms with toilet and sink and mirror. When I enter there is no light. I step out of one box and into another. No light neither. Well, it's not completely dark. I am wondering that the mirror is unusually low. Even for me - I can not even see my own face?? When I turn my head I have to laugh. A tiny miniature toilet. It is a special children's cabin. For small children. At the front desk they also say that people today want it to be nicer than at home.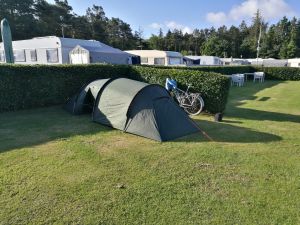 The first campsite
I get the tent bed completely dry in the sun and pack up and am ready 8.30. Tonight I have an overnight stay that was just completed yesterday despite bad mobile coverage. So the tent is not to be used before in Iceland.
I arrive at the ferry in Egense in time to just roll in after the cars. I should have been right on Ulstedvej, but I have considered wrong when I looked at Google Maps, and when I check after a few miles I am far past. So I look for a road farther ahead, to use instead.
In this way I get into Hals Nűrreskov. The road starts with asphalt, but turns at some point into gravel. It's like driving in "Dyrehaven" - very beautiful. Nűrreskov Gods are some very modern buildings, the old ones must have been demolished. The road is turning more primitive, the gravel is almost broken stones. Finally, the road divides where it should have gone straight. I'm trying the right one, but it ends at a house. So, should I try the other one, even the direction is completely wrong?
Fortunately, I notice a car in the direction from which I came, actually the first human being I've seen. A large 4WD car approaches. The driver tells me that it's ages since the road was closed. I'm not the first to have got lost after GPS became common. They have - so far in vain - tried to get it changed in the map. So I have to go back again. However, I can take a shortcut to the left somewhere, and after a couple of km I get onto Udsted Road.
There you see. Even you HAVE used your common sense, you may not necessarily rely on Google Maps.
Something's wrong with my phone. It was charged to 100% last night. This morning it was already down at 74% going steadily downwards. I need to find the shortest route and in particular to find the address where I shall stay. Without a phone it'll be difficult to find.
At Hjallerup I see a waiting room for the bus. A real one with doors and toilets. There must be an electrical outlet, the room must be cleaned from time to time and vacuum cleaners need power. Indeed. And I get a much needed break.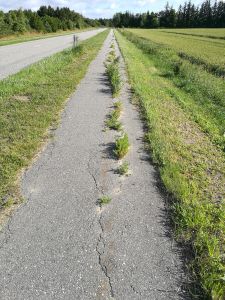 Like in Japan except that the cracks are along the road and not across
Coincidence helps me. Twice I closely avoid one of the showers that occasionally cross the landscape. Once I have for some reason, stopped by a bus stop as the drips get heavier. I pull the bike in and eat a banana - and then it was over.
The last stretch runs smoothly between cropped hills and finally up a small gravel road. We are really out in the bush.
95.67 km