19.07.17
This hostel is close to the Ring Road but is it far from a town. 25 km I believe in backward direction, so there will be no shopping today before reaching Buđardalur in about 74 km. I still have some bananas and a pack of rye bread. Buđardalur is supposed to have 200-500 inhabitants, so there HAVE to be a shop
I came to the room with all the girls. That was fine. They say nothing and go to bed early. So I have had a good night's sleep. But do not say that girls do not snore - just not that high.
The plan has been revised. If I go up the Kjölur route to Hveravellir, there is only time to stay in Reykjavik one day, and otherwise it is on cycling every day. So let's see what the way and the weather are for .... For the time being, I'm heading at Snæfellsness.
9.10am I'm back on the road. Unfortunately, there is not a small ferry for bicycles that sails cross the fjord, so I'm going down to the bottom and up again on the other side.
Almost no wind and completely grey. In fact, nice bike weather. Even before I've reached the bottom, I'm passed by the Slovenian family, I talked to. They are going the same way, but by car.
Driving just œ km extra after the bridge, because there is a tank with restaurant and thus a toilet, one that I could use. You can as well take the luxury one can get.
I stay quite a while talking. First to some Dutch who do not know where they are. I give them my tattooed bicycle card and take it new to use. Then some Danes show up. Everyone wants to hear how it is cycling here.
The road waves well up the fjord. Not big climbs and I get to where the road turns up across the peninsula. According to the map, the highest point should be 200 m. We switch to gravel but of good quality.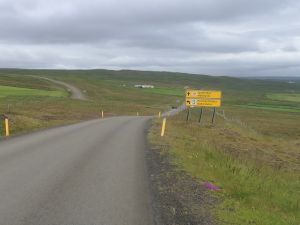 Here I have to turn left
Right at first there is some reverse traffic. There is waving and clapping of me in the cars. Where I'm just an annoying obstacle in the Ring Road, I'm an encouraging feature on a road where you drive slowly, because this is the wildest thing you can venture in a hired car. It's not a F-road, so here they may drive.
The first climb is the steepest, but behind it yet another is revealed and one more and then it flies out before another one comes. Then I'm up in the first place, but far ahead comes one last - I suppose. Then it ought to go down along a riverwalk the rest of the way.
That was just a lie. This road really goes its own way.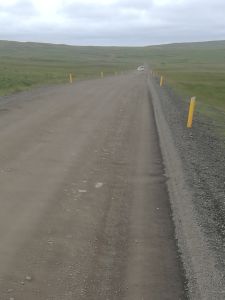 A less

interesting road
The only positive thing to say about this transition is that a large stone appears for lunch, which can be enjoyed today in the green. One that the bike can lean on and where there is a groove to sit on in one end. But there are annoying flies.
Then it continues up and down. The water has started to run down as water does, but the road is not lead by gravity, but still waves up and down.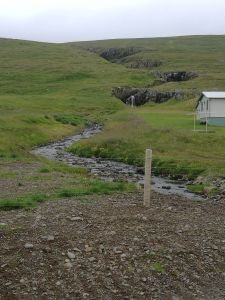 The most beautiful sight of the day
On one of the hills, there is a guy in a driving car that has the elbow in the window. When he passes, I see that it is an action camera he holds. So now my efforts have been recorded.
Just as I am thoroughly tired of this self-conscious path, it goes into asphalt. That was at least something
.
| | | |
| --- | --- | --- |
| | | |
| They washed white today | | Just arrived |
I'm exhausted as after 90 km when I finally reach Buđardalur. You constantly concentrate when driving on such a gravel road of varying quality.
There is both gas station, supermarket and cafeteria. I buy a cup of coffee and a cookie and ask if there is a "refill". No, there's not, says the youth.
After having enjoyed my "sukkulađi", which I chose instead of coffee, I complain that he might as well greet the boss and tell him that with the half cup you get here there ought to be a refill.
But you have to press twice to get a whole cup, he says. Well, then I have half a cup for good .... Then the girl mingle in to say I can fill up, all I want.
Thanks for the "sukkulađi"!
There is no warden at the campsite, they pass by once in the evening, says one. So when I hit the tent and have layed half asleep for half an hour, I walk across the road to shop and sit down to write with another cup - with refill - sukkulađi.
There is also a plug at one of the tables, so there I sit.
63 km