16.07.17
I said that that too early - I'm back in Varmahliđ.
Last yesterday I spoke to two English cyclists. They drive along the Ring Road all the way around in 14 days. In the opposite direction of me. Just let them. They gave a cup of coffee this morning. Now you can also get coffee in bags - like tea. Got asked them what they meant about Brexit. It was not something any of them were very engaged in. The elderly would like to leave, the younger like to stay and those in between .... Well ... Michael lives in Brunei - after 11 years in Shanghai - so his interest in the motherland is probably naturally limited.
It rained this morning, and it continued after I left 9.30.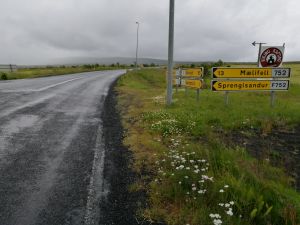 Here's my road
Found the road 752 and drove there in the tailwind. For the first time I saw something that looked like crops other than grass. And they were about to install a district heating pipeline. Or hot water piping is probably more accurate because there is no reason to send the hot water return. And some of it is used as water, and therefore runs out naturally. I assume. May ask for it.
Then I met Leo. A biker came to me and we stopped both. I thought he said "con dios" and asked if he was a Spaniard? No, he was not, he had just said hello in Icelandic. Then I took him for a time for an Icelander, for his opinion of place names sounded very authentic.
He seemed happy meeting one on his own age by bicycle, even though he thought he was older than me. After the furrows in the face, I thought he MIGHT have been 80. He fortunately asked how old I was and had to admit he was only 67. There I got him.
Along the conversation he mentioned something about Japan, and when I said I had cycled in Japan, he got wild and wanted my mail address. I said that Japan was not a good bike country, but he was just happy.
We exchanged addresses, and he turned out to come from Antwerp. He had been in Iceland for longer periods of time. Right now he lived on the farm over there - and he pointed - but was on his way to riding. There you really were one with nature. He had come so far with the riding that he had started dressage.
A very encouraging meeting. He seemed a little mad, but what do people think about me? He told me how I proceeded in the desired direction, men I did not listen properly since I could not see there would be any problem.
Afterwards I wonder how it could go wrong. In any case, I did not turn where I should.
I discovered it only 10 kilometers later, and at that point I did not want to drive 10km back in reverse, as there should be an alternative route. I also missed that - it showed later.
I had just turned from 752 and into 755, as far as I could assess, had to be the option. There I stopped a minibus with tourists from a farm. The driver was not local, but was sure this was the option to come to the Kjölur route.
Then I continued, and the road rose. Finally, a car came against me. They were tourists, but they lived on the farm a bit further, where I could ask the owners. They obviously had a lot of tenants because there were a lot of cars behind the farm.
The wife was somewhat cautious when I showed her the card so I was sent across the road to the man in the workshop.
He was in control of the surroundings. You get it when you collect the sheep once a year. The alternative route - as I had also passed - was one they used only when they were collecting sheep. I could not count on meeting a person there - and it was bad. It was at least 10 km behind and there was a sign of a farm whose name I have forgotten now.
I thanked and drove - back.
It started to rain sharply and the wind that was now against made it a freezing spectacle.
I think this was where I decided to drive back to Varmahliđ. I would never be able to reach the stage goal today and I probably did not have supplies for an extra day. In addition, the idea of a cup of coffee and a cookie in the cafeteria was extremely attractive. And I'm no more busy than I want.
I have since then looked at the map on the mobile. I have not used that yet. If I had, I had not been in doubt. Tomorrow I'll try the HereWeGo app offline, where it only uses GPS. It seems to work.
You can always get wiser .....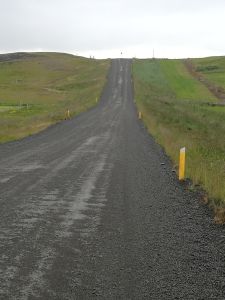 Here I had to push the bike - and even that was HARD
After coming back and having turned the wet tent up in the rain, I have changed plans. There is a high pressure across England and low pressures on a strip cross Iceland. It will be quite bad weather in the near future. In addition, there is a strong wind from the south midway over the highlands of Hveravellir. 10 m/s against could go if conditions were otherwise good, but driving in beautiful areas in shady weather .... There is no reason for that. Rather, keep me at the Ring Road, where there in between is some building or a supermarket.
So you won't miss my news - probably - the next few days. Tomorrow, Blönduos is 50 km away and is a real town.
I sit in the cafeteria and have eaten today's dish with several times salad and several times soup. I think I needed that. Just have a cup of coffee, it's included and with refill.
Planning in the cafeteria
67.81 km