17.07.17
Another wet tent is packed. There is not much wind - yet.
I saw the profile from Blönduos to here on one of the Englishmen's GPS. Nice steep climb up and almost a vertical drop down to Varmahliđ. It looked terrifying, but it turns out to be a normal hard climb as often before. I prefer them like that. Just get it over with and THEN move on.
It's about getting a good rhythm, in this case 3 pedal revolutions for each breath, 2 for exhale and 1 for inhalation.
A tired cyclist is trying to look into the camera
I have reached the transition, here is the Vatnskarđ observation site. I know that from Vedur, the weather service app.
Unfortunately, there is another climb at the end of the transition, not bad but long.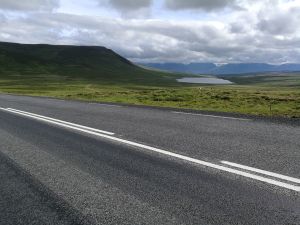 Up in the transition
I never get the tailwind I've been hoping for. The mountains on the left from where the wind comes is too low, so the wind just gets ocross and into my side.
Twice I'm involved in dangerous situations. People would rather kill themselves than wait for 5 seconds. The two times there are oncoming vehicles and I block the right lane but they do not stand behind me but drive over to the left lane to get past and, of course, almost collide with the opponents who honk like crazy.
Have now reached the approx. 50 km to Blönduos, and the bottom of my tent is drying before I put it up. Talked to a group of Polish cyclists who have taken a bus to start from here and drive down the Kjölur route. The one I just abandoned. I did not try to take courage from them, just thought: happy it's not me.
The prize of the day

Si

t at the cafeteria and get cappucino and carrot cake, "gulrótarbiti". Asked if there was refill included, and when he had been out to ask, the answer was YES. It's just a machine, but not one you push yourself, so you should not believe it. However, always ask for refill in Iceland. It's also almost just half a cup, you get for 550 is.kr., So by all means.

Now the tent has come up and the sun shines so nicely. I lie down a while and doze off in the sun which disappears a couple of times. Life is better in dry weather!

Then I drive out and look at the city. All the way north of the harbor, I meet Emma. Emma is a 4-5 year old girl who lives near Vejle. Fortunately, she is not alone, but has brought her mother and father. The father is an Islander from here. The mother is Danish. Now they live in Denmark and are here on holiday.
| | | |
| --- | --- | --- |
| | | |
| There's a neddlework museum... | | ... in town so the lampposts are decorated |
When I get back, I fear for a while that I have lost the charger for my mobile. It's not like when you have routines. Then things must be certain places. I do not get it - finally - when I think of the computer .... Well, they were charging together, and there it is. I escaped the fright - because I do not think they have a computer shop here. But you never know. But a charger for a Huawei P9 ....?
55 km