26.07.17
It's always easier to get into a big city than the right way out. But now Reykjavik can hardly be called a big city. Still, it is not easy. Not even with the help of Google Maps. I'd rather avoid driving on the major roads. And when you follow the cycle path that seems to follow the right road, it suddenly bends off and you have to drive back.
It happened first once where I had to go back and down to the big one. Only shortly after to catch on to something that can only be compared to "Lyngbyvejen" during the rush hour. There is at least the same speed limit. Unfortunately, I had to get past the exit and a hill before I could escape.
Dense fast traffic in Reykjavik
Finally, I got lost into a residential area because I tried to take a bike path again, one that looked allright. On my way I passed a German couple who also wanted to go to Žingvellir by Road 431. I'm sure they didn't know what they'd meet .... I didn't know either at that time.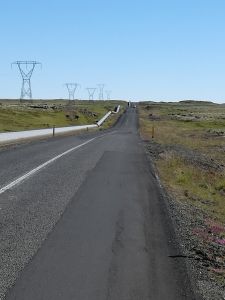 Following the pipeline
The Dutchman said that the road would be steadily rising and that a pass eventually came. It may be said to be stuck. There were two smaller slopes that pulled out, but where don't you find this in Iceland? Smallest gear.
| | | |
| --- | --- | --- |
| | | |
| Silo for intercontinental ballistic missiles? | | Bridge for snow scooters |
I gradually feel that I do not have more teeth left, to stay in terminology, and first THEN the pass comes. It is spectacular. But far from comfortable.
When I think it's over and I'm up, I drivedown into a valley just to have another climb in front of me. We are talking about 15%, it's on a sign, if you should not have discovered.
And this way it keeps on a number of times. 3? 4? I do not remember. In the first valley I eat lunch. There is a table and bench.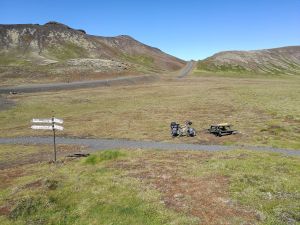 Lonesome bike in a lonely valley
Don't tell anyone - the last climb I pulled up. Or rather: at an angle of 45 degrees I push at full power on the bike to make it move upwards. The advantage is that it is easy to take a break this way. It is difficult to start at an increase of 16% when cycling.
Here at the top there are some great containers that I suppose contains Rejkjavik's reserve drinking water supply? At least I have run along a pipeline leading to Reykjavik.At the neck breaking downhill, following, I have to drive with the brakes drawn. There are no even stretches until last.
Up after the pass, there is the most beautiful view of Žingvallavatn, the lake where the plain, where the world's first parliament gathered, is at the opposite end.
View from the top

Ž

ingvellirvatn
Now, following the map, comes a stretch of hot tempered hills. First over 10% and later 6-10%. And they do come!!! But after the 15% increases it is, though not childs play, so to overcome.
As I turn around a corner, I'm almost getting torn down by the wind. Where did it come from? Now it has been NE all the way. 2-3-4 m/s enough to be annoying. Now it's gone SW and comes hopping over the mountain. 11 m/s I think. From the side.
At some point, a snap sounds and the map lying on top of the handlebar bag is gone. Lying down in the ditch. It's too steep to go there with the whole bike and too much wind to have it standing on the kick stand. I end up putting it down while I go down to retrieve the map.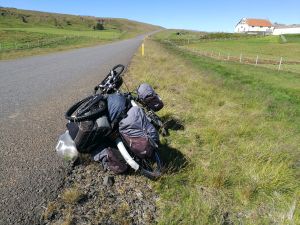 Closed down bicycle
Then I fight the last km to the main road, I'll follow the last piece. It comes from SW.
Finally .... I can let the wind take me and blow me towards Žingvellir. Hu-hey how it goes.
The last 6-10 km is no problem. Here you see where the rocks are cracked and pulled apart. This is where two continental plates slide apart. One inch a year, I hear a guide say to the bus passengers at a view point.
There is a coffee shop. After cappucino with refill and a muffin and a chat with an American couple who have almost completed the ring, I'm ready to continue to Laugarvatn, 23 km. I thought for a long time I would not go any further than here, where there is also a camp site.
Exhausted but ready.
They talk so much about having momentum in sports. I have it now. Momentum. Keep up the speed. The road turns around the plain, so I'm getting headwinds a bit, but fortunately, it's a downhill, so I keep a good pace, and aside from passing some mountains with sidewind, I have it in my back.
On I go with up to 30 km/h, although the landscape rises slightly. I have been waiting for this chance to step on it for a long time.
Around 19:00 I thunder down towards Laugarvatn, where there should be a nice camping according to the Americans. The one I had already imagined.
Just as I have decided for a spot and parked the bike, I think my neighbors speak Danish. And it turns out to be Alex, Vera and foster child Simon.
And before long we sit and eat together at their tent. Their food is almost done, but with my 7 min's meal I catch up with them.
They are going to drive to Geyser after the meal, now that there are not so many people. If I want to join? IF I want to!
After I have raised the tent and thrown everything in, we go in their rented Chinese 4WD. It's 30 km. Nothing for a car.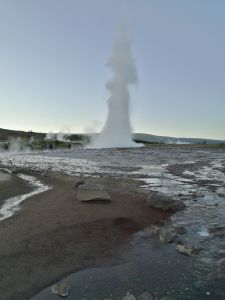 "Strokkur" at work
The original "Geysir" has abandoned life, but a new has taken over its position as the main attraction: Strokkur, it is called. It is a little irregular, but impressive. It's great here in my loneliness to be somewhere with other people.
I don't finish all the rites until midnight.
94.46 km