23.07.17
I thought I'd rather stay in the tent, then it might not blow away, but I had to go and cook at some point, because there are some kitchen facilities. Otherwise, there is not much to shout about. Two toilets in the basement of the hotel.
And with 2 hotplates and 2 small tables you will meet each other. I talked nicely to a German couple while I ate. My meal only takes 8 min to cook. Now I'm a bit tired of it. Looking forward to coming to Reykjavik.
When I got up from the basemant, the wind had settled, but ....
There is a hot pot here and shower is included for 700. I thought I'd better wait for it until before I was going to sleep.
I paid and got a key and went over to the house. It was like a swimming pool, just the basin was outdoors, but the water was hot. I swam some lengths and sat up in the tub - all alone under the Icelandic summer sky. I just learned to say, "Haf đu go kvöll" by someone who was on his way out. Have a nice evening. He did not write it for me, so I've transcribed it to the best of my ability.
It was a lovely bath - but then I was also ready to go to sleep.
There is one or more family events this weekend, so there was still play in play and games. It sounded a lot, but I went out like a light.
During the night the wind went on again - and died again.
This morning it has grown again, but not like yesterday.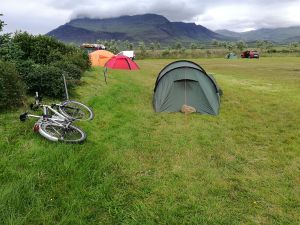 Note the stone
And then it's all about the big Icelandic breakfast table. It shows to be like any other hotel breakfast table. When I ask if it's yogurt, I'm told that it's sour milk, that is, A38. At least it tastes like that.
Morning activities have started
Borgarnes is only 50 km away, but there will be a headwind. The longer I wait, the less windy it seems. Expect to wait until 11.
When I sit and listen to the Icelandic that talks about me, the melody is very close to Norwegian, but there are also some memories about Finnish?
Do not leave until 12 noon. My German neighbors will be coming to Bornholm next year. They have got my email address. He has promised to bring a bottle of his own apple brandy.
I'm flying back to the main road. Then it's over for today.
The road to Borganes consists of long, straight open stretches. In headwinds. Then the day is scheduled.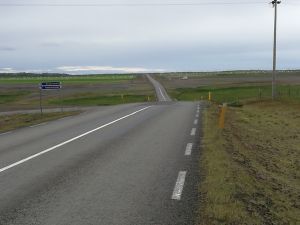 Long straight open stretches
The wind is barely as bad as I had feared, and at some point it turns slightly towards the south so the wind is slanting and there is some dwarf birch stand at 1œ m.
Also that comes to an end.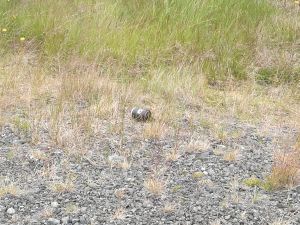 You don't find much of this in Iceland - thank God
Most of the time I see the cars like little ants in the distance revealing if the road turns. Right now we are heading towards the mountains, but the road should stay down the front, I think.
Heading for the mountains
It is 14.15 and I have crossed the halfway point. I am happy partly because the wind is a little dull, partly because it keeps dry so I can stop and write. This makes the day slide easier.
Finally, there is a lunch site. A small lake on one side and a some rocks to the other. That means that there is something to sit on.
Well, Snorrasta

đir

must be somewhere - but it might be far?

Evening at the lake - which was the end of the fjord
Now I have rounded the 40 km and still drive straight towards the mountains, lying like an impenetrable wall. Still do not know if I'm going left or right around. The ants come up over a hill right in the middle. Borganes must be somewhere down behind, but in front of the mountains.
I was right. Here at 18:00 I got the tent up, shopped and withdraw money (there was only one ATM in Borganes).
The site is just off the Ring Road, and there is a traffic like hell. Everyone is supposed to return home to Reykjavik this Sunday evening.
50.07 km