22.07.17
I'm awake 5.45 and ready to set off at 7. There was not muesli for 2 days, so I emptied the bag. Must have something to stand against. There is also a hotel at the campground, I know from the Pole, so I may need to buy breakfast there. Perhaps I have to stay under the floor one day - if I arrive.
It's the usual thing, as soon as I'm ready, it starts to rain. Put on the rain
Then comes some endless straight stretches. When I reach the first 25 k, I start believing, but it's hard. Power must be put in each thread, nothing comes by itself.
, and I get to get side winds. That's great.

Back in the counterwind, but the road toss and turn so the wind changes. Variety is nice although it is between very bad and a bit bad ...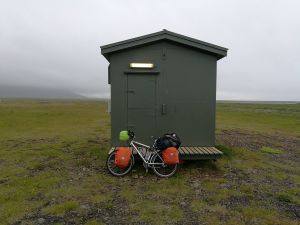 A rare shelter - locked

Find shelter behind a small house. Must later stand and eat in the open by a sign, where the bicycle can lean.The wind is turning more in the south, so I get it from the side. Progress. After 55 km, I reach the place where the road to Stykkisholmur turns off and crosses the mountain. There is an eatery. I have to have a cup of coffee! And there is a cyclist already.

He turns out to be German, one of these old Germans, who does not speak much English, but also does not take into account that one does not have German as the native language, but speaks quickly and unambiguously.

He has previously cycled in Iceland. But now he already seems tired of it all after 3 days. Everything is too expensive. He does nothing but complain. Which coast is best/most beautiful? I certainly think that the north coast was. What I've seen today has been covered with clouds.

Then he decides to go towards Stykkisholmur and the north coast. It is only later that I see that there is a warning on the north coast. For wind-sensitive vehicles - like a bike must be said to be.

The break has made me good. Now it has been dry

for a long time, but as I go out, it starts to rain. Rainwear on.

The countdown has really begun, it is 20 km

left

, and the wind is not more than 5-7 m/s yet.Finally, the road

makes a new turn into the country, and I get a tailwind, and now I'm sitting here in a tent that is being ripped off by the wind. For now, it has grown. There is no measuring station nearby, but it must be somewhere between 13 and 15 m/s.

The tent flatter dangerously, but is fixed like never before. Normally I have only one plug in each of the four corners, now there are plugs in all the places that can, and all the bardons are . Hope it lasts. I laid a stone that I could hardly lift to keep the tablecloth down in the wind.

75.08 km