12.07.17
At 23 I lay down a second in the sleeping bag. Just to keep warm. At 0.30 I had to stumble to my legs and brush my teeth. It's probably not for the last time.
The wind has turned. After an unusually quiet day yesterday, it is now blowing from the south. It started yesterday evening.
So now I have backwinds, but calm. Only until I reach the south end of the lake. Passing an attraction not mentioned in the book: Höfđi, a small nature reserve. We may call it a forest, but that is also an attraction in Iceland. All the trees and bushes I've seen so far and a lot more: a kind of larch and pine. For an Icelander - or a cyclist - this approaches paradise. There is complete shelter. And a nice scent.
There is a drip in the air. Not rain.
| | | |
| --- | --- | --- |
| | | |
| SO nice with a sheltering wood | | Flies instead of bees - I never saw any |
I stop at Skútustađagigar (try to say that), which is an area of so-called pseudo craters. My blistered foot doesn't feel good at walking today, but I take a smaller round. Have to go on.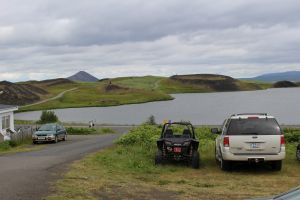 That's what an Icelandic 4WD bus looks like
As soon as I have reached the Ring Road a hill turns up. I won't call it a mountain, but it's 75 altitude meters. It falls into 3 parts with turns in between. (Only now I realize that it is the edge of the crater on the other side. It's just a lot more overgrown)
There is a real difference between driving uphill in tailwind and headwinds. And now it's tail. Then it's no problem. And the downhills afterwards !!!
I have come into more hospitable areas. Green valleys with roaring streams. A house again and again. Finally, buildings: Laugar. Not long after the day's work: a new "hill" I'll have to cross. 50 m at the start and 270 m at the end, giving 220 meters. I start working!
As the downhill has started, I can already see the majestic Gođafoss down in the distance. There I just have to go and the bike is running by itself.
| | | |
| --- | --- | --- |
| | | |
| When I first sighted Gođafoss | | And through the big cameras zoom lens |
So already at 15, I have eaten lunch, tapped up the tent and found that the computer is still alive. It would not start yesterday, and I feared the worst. It was about 50% when I turned it off last. But I must have hit the wrong button, so it was just asleep and little by little went totally asleep.
It's just a small site, but they often the best. There is shower and electricity, the latter outside, and as a senior I got it for 1000. Then I can afford a cup of coffee at the café. Gođafoss attracts people and then tourism flourishes.
Go

đafoss in the morning

My camp at the stream
I never got to the coffee. It started to rain, but I found a plug in the toilet building, which is a converted container. Then I stood there and transferred pictures and wrote.
It was raining continuously until 20:00. I lay and was falling asleep when I suddenly realized that the sun was shining and hurried to watch the waterfall.
56.62 km