07.07.17
I am next to the Germans. Last night came 3 young Spaniards and joined us. Children were still walking around shouting and screaming when I was about to go to sleep, and the Spaniards choked up. In a miraculous way, however, I fell asleep, but this morning, the German tells me he had to ask them to shut up at half past eleven.
Now when I am about to leave, they are getting eyes. I start a conversation with one of them about how we have slept to have the opportunity to say that there were someone who talked loudly last evening. They should have it from all sides. Then we talk about where we go, and I give them a good idea that they can work on. And end up saying that they must remember there are others in Iceland.Can you see the halo?
Trolls south on the Road No 1 - or the Ring Road - as it is just called. Though it's in a different way than our ring roads.
It's a different landscape from yesterday. On the other side of Lake Lagarflojt, which I drive along, the highlands rise like a huge hill. The road is perfect, the traffic minimal. The road is lined with lupins and yellow snerre and the birdlife is strange. I can now distinguish 3 different bird sounds, I do not know, as the dominating. I managed to find the road service web site. It seems that I can drive down to Snæfell anyway. It is just the road to the glacier that is still closed.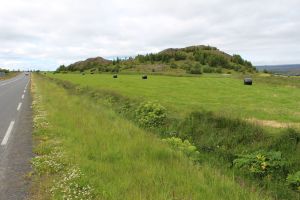 A comfortable road to the south
I was also watching the weather for the next 4 days. Tomorrow it should be rain, but not the next. From the beginning I see a mountain, undoubtedly Snæfell, it rises majestically down to the southwest.
This plant will follow me - "kvan" in danish
Road 1 turns off, but it's still nice asphalt. In the beginning there were slightly scattered pine growth, but down here at the southern end of the lake it turns into a real forest. Most Spruce, but also Birch, Willow and Rowan berries. Some of the Rowan berries originate completely like birch.
A long time ago I have seen an incision in the highlands well ahead. It's occurs to me that it must be there Hengifoss has cut into the rock through millions of years.
As I have come down to the lake and crossed the bridge, there is not far to the parking lot below. The 1.2 km strolling trip is considerably longer and it's steep. But it is worth while. Along the way there are the most amazing rock formations and lots of smaller waterfalls.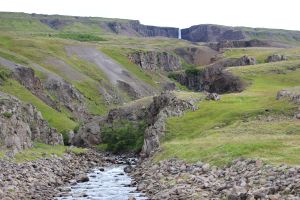 The waterfall seen from the road
The main waterfall you can not get close to, at least not by the time I have available. I take the photos I want and I rush down again. On Nelle's map, I always knew when there were climbs and hairpin turns, but not on this.
It is a regular climb with 10% increase over 4 km and hairpin swings and all. I did not just think so. 10% for such a long stretch is just on the edge of my performance. But up I get and time it takes. Almost 1 hour at 5 km/h - and then it's not over at all. Over and over again I think I'm up and time after time I'm disappointed.
It takes about 2 hours - at least - before I can say to be up in the highlands: the big nothing. Moss and Lichen and occasionally some tasteful violet flower pillows, that is, what is to be seen.
A boring headwind goes on and there's nothing to stop it - other than me.
Snæfell has been the guide all day, now it is in front of me in all its splendor. And right behind is the snow and the ice: Vatnajökul.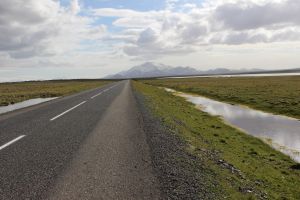 There's no doubt about the direction - Snæfell
Still fine asphalt and no traffic. There's about 10-15 min between the cars - most against me. Here you can feel a little alone.
Time passes, the road is constantly turning around lakes, but the order is restored every time: Snæfell is right ahead. I didn't think I had time to eat, so it's just been a little now and then. Now I feel I'm starving. I find some big rocks, one of which gives shelter and the other one can be used as a table. Toss a can of tuna in oil and a proper multi-grain bun, I bought two of this morning.
Continues. Far away I see one of the big 4WD camping cars. It stays silent. When I get there, it's at the road down to Laugarfell where there are people. Accommodation, but no camping. The couple in the car turns out to be Germans. They have taken Snæfell today and were going to camp in Laugarfell, but you can not, and as a national park, you should not camp elsewhere. Damn, I was not aware of that. But I have just decided to drive north to a farm called Ađalsbol, which has camping, instead of south to the campsite at Snæfell. I will continue north tomorrow and it has been a long day. It is up to them to decide. They will too. We are studying my two maps. According to the bicycle map, one should be able to do the F923 shortcut, but certainly NOT on asphalt.
The decision on the F923 should prove not to be what it stands for. Eventually I get to the spot. According to the bicycle map there should be 2 crossings or ford's, as they are called there. Thus, places where the road crosses a river without a bridge. Both should be "easy". The road is awful the first piece, but there are intermittent pieces where I can drive 14-15 km/h.
Within a short time I reach a car. It does not look like the Germans, but it is. They think they are outside the national park now (they have at least driven so far away from the "main road" that they can not be seen). They have been further ahead checking the first crossing. He thinks I'll get wet feet, it's not that low and quite a current. Well what is there to say? Other than wearing sandals and turning my pants up.
The first ford
That's what I do when I get there. The bike is sinking into the pebbles, and it really takes force to get through. The panniers do not stop being dipped and my pants get wet, but I do get across.
Then comes a long stretch of changing quality. The bike map has some important informations which my own map doesn't have. 730 stands at a dot on the road, that's a pass I'm going to cross. And up it goes into small, steep hills. It is not an appealing sight that meets me up there. A river of steep sides lies in front of me. The road is so steep and with loose surface that I end up walking all the way down. The handlebar has long been loose.
Worse is, there is no road on the other side of the river. Can a road with numbers end blindly?
When I'm all the way down it turns out that this is not where the ford is. And the road along the river is much better than it has been for long. I pass one farm and can see another further ahead. Could that be Ađalbol? There was a smaller watercourse I could ride across and a waterhole in the road I could walk around. NOW, the ford will come.
Learned from experience I have shortened my trousers. The crossing comes in 3 or 4 parts and it is much worse than the last. The bags are really in the water. The computer is in one of them.
It IS really Ađalbol. It's 21:30 and I've reached my goal!!!
It costs 2000, but there is a real toilet, hot water shower, a small house with an electric ring and table and chairs and a plug. Everything you could wish for. At 23.30 I can go to sleep, clean and nice and with a full stomach.
The paradoxical thing is that if I had not taken this awful road, I hadn't reached this place. On my map it looks like that the farm is on the road F910, but that is not the case.
99.45 km