24.07.17
I thought I had been robbed - and so I was - in a way. When I arrived yesterday, two young Americans were sitting at the "kitchen" and I came to talk with them. They seemed strange. Had no tent, just suddenly found out to stay here.
When I saw them walking later, they were an odd couple. One small and frail the other tall and lanky with glasses. Fy and Bi I called them. (Danish film stars from the time of the silent movie)
Later the lighthouse came to my tent and asked if he could borrow a charger for his mobile just for a short while, and stupid as I was, I gave him my Huawei super charger. In fact, I actually had another one.
After some time I went and asked how it went on with the charging. He would probably bring it in a moment.
I thought: I give him until 22.30, and then went there. He was not there and the charger was neither on one or the other toilet. Then I hunted them but found noone. Gone. All 3 you could say.
It is mildly said that I was angry and depressed, but what was there to do, other than go to rest.
Around midnight I woke up and heard voices. It was theirs. Now they were sitting close squatting. I jumped out of the sleeping bag and went there. I eyed the long one long enough to make him ask if it was the charger I came for. Yes, he could bet on that. Why did you not bring it? Your tent was closed and I thought you were asleep. I snatched it out of his hand and went.
And what can you learn from that? Never lend anything to someone you don't know just a little, I think. Because you will help if you can?
But I never lend out my super charger again unless I can keep an eye on it every second.
Were up 5.45 and left 7.15. I could not get my muesli from the COOP so I had bought another more crunchy one and a half liters of milk - I thought. It was ½ liter and milk it said. But what I had not thought about was that it said ab milk. Now I know it's equivalent to A-38. Not that it mattered, I was just surprised.
Leaving Borganes
Was in Akranes a little past 9.30 and think I have found the site where the ferry docks. You can't say they show off. Sitting at a cafe waiting for the time to approach 11. I'm also approaching Reykjavik's prices, I promise.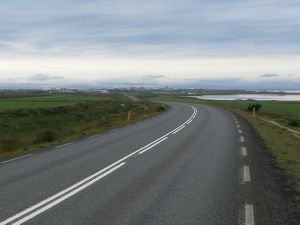 Akranes in the distance
| | | |
| --- | --- | --- |
| | | |
| Beautiful old... | | ...houses in Akranes |
The ferry is already there. No information about anything, but I ask and it IS the right one. I get help pulling the bike up the walkway. It is probably more than 25%.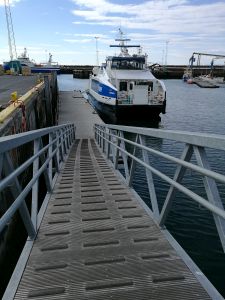 The downhill was not so steep
There is also a German father and his two big children - with bikes. The bicycle repairer I have been recommended by Leo (the Belgium I met at Varmahliš) is the same as they were helped by as they had been around the whole town. Sounds promising.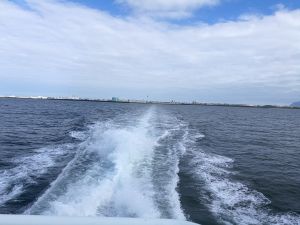 Leaving Akranes
I have come to another world. Close to another planet. After 18 days in the wilderness I am in a big city - that's the immediate impression at least. New apartment complexes have shot up at the harbor, undoubtedly at prices that match Copenhagen.
It's hard to switch to city and street mode, but I'm cheating using Google Maps. Then I know where I am and where I am going.
At the campsite in Reykjavik you must queue for 15 minutes to be allowed to register. I get a 10% discount as a cyclist and another 10% as a senior (the retirement age is 67 in Iceland so I meet the demand). In that way it does not get so badly expensive as the German said, but he also had two children at full price. Ca. 1800 kr per night.
In addition to the million people who are probably here, there are a million scouts. It's totally chaotic, compared to what I'm used to.
After the tent is up I drive straight to Örninn, the bicycle workshop. The first young man who willingly looks at it can not really tell what's wrong. And he calls for another. Then they take the handlebar apart. The result is that a part is missing, such as this one, he says. But they do not have one that fits. Then they reassemble it and tighten as much as they can. I ask what I owe them? 2 men for ½ hour. It is probably symbolic: 2132 kr. No wonder they are famous. He also believes that they are the largest bicycle shop/workshop in northern Europe.
I was in a supermarket called Kronan. There they did not have my Danish müesli.
Who says icelandic is difficult?

Is: Pylsuvagninn - Da: Pųlsevogn

I wonder who the "Over kommander" is?
And it has
turned
summer. It was when we crossed with the ferry. Light cloudy and a fresh to hard wind, which you almost do not feel in the city.

46.58 km